The season opener is tonight and I am more excited than a kid on Christmas. A fat kid at an all you can eat buffet. A girl ordering pumpkin spice coffee for the first time in fall. I need Celtics basketball back in my life more than I need air to breathe, and is finally back! With that being said, let's talk about the top 10 things I am most excited about for this Celtics' season.
---
1. Gordon Hayward's First Points in the TD Garden
I recently wrote a blog about Gordon Hayward returning to the Celtics so you can go check that out if you want. However, I saved this part of the story for this blog specifically. In case you forgot, Gordon Hayward has not played in a regular season game at the Garden yet. He got hurt in Cleveland and that was a wrap. Sure, he has played in some home preseason games, but who cares? When he hits the first jump shot on the TD Garden floor, the place will erupt. Chills just thinking about it.
2. Marcus Smart Fighting Anyone and Everyone
If you are telling me that you don't get excited when you see Marcus Smart get up in someone's face, then you are just straight up lying to me. This dude is a 6'4″ 225 lb spark plug. This guy does not back down from anyone and is easily one of my favorite players in the league. I was so happy when we resigned him because he brings so much to this team that does not show up in the stat book. He is this team's enforcer and wants all of the smoke with anybody in the league. Marcus Smart is the epitome of "playing for the name of the front of the jersey instead of the back."
3. Bench With Attitude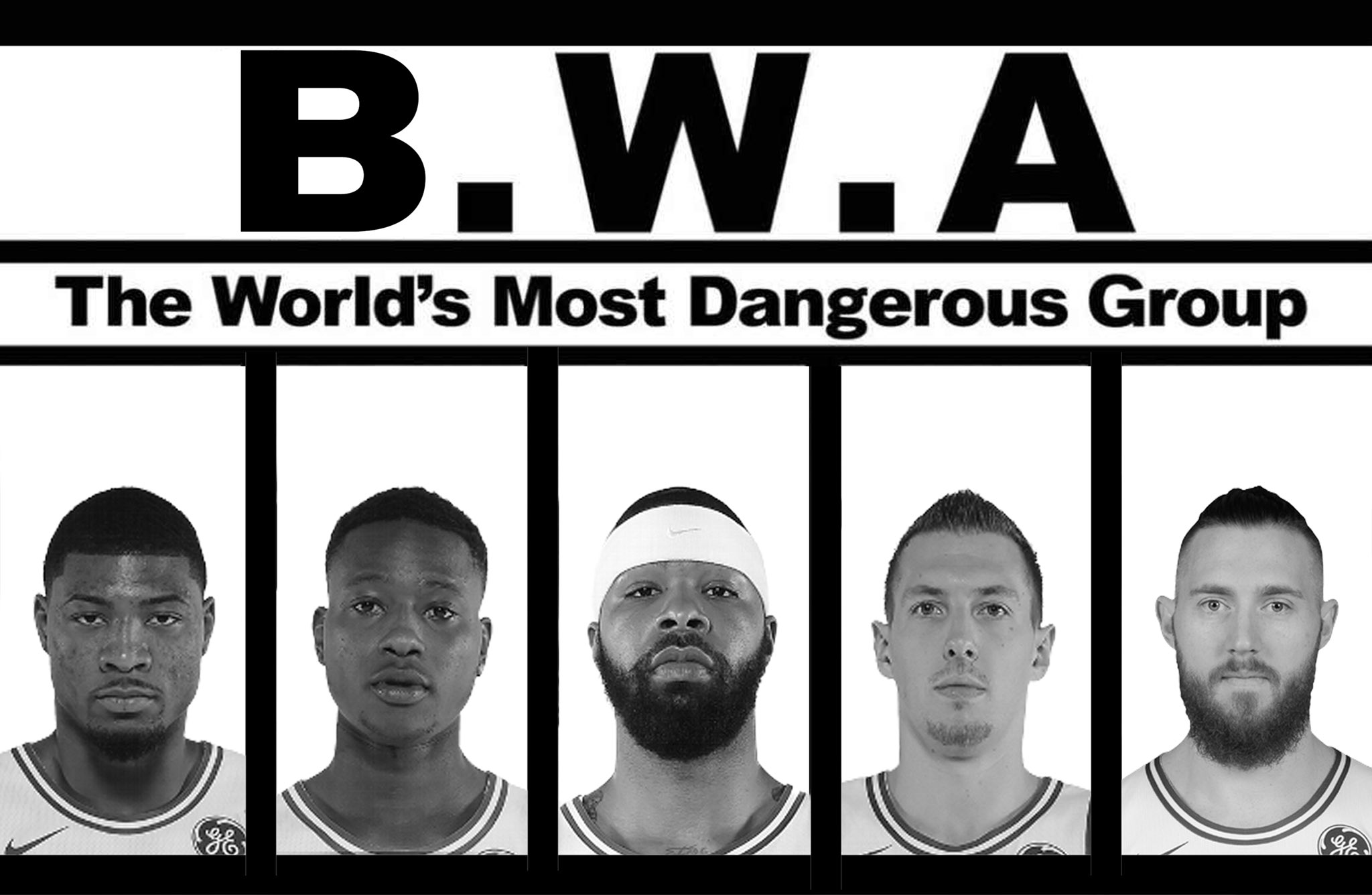 The Celtics arguably have the best bench in the entire league. I am open to hearing arguments, but save them because you are wrong. Not only do we have the best bench, but they know just how good they are. Coming into this season with the whole "Bench with Attitude" mentality is awesome. They can get buckets on you and also beat the brakes off of anyone in the league. This bench literally likes fighting more than they like basketball, so why anyone in the league tries to start beef with them is beyond me. The Celtics' bench is so deep. There are so many options we can rely on to get a bucket or two when the starters are out. Ugh, I love this team so much.
4. Jayson Tatum and Jaylen Brown Making Another Jump
J-Team, Jay Watch, whatever you call these two, they are going to be something special this year. Hayward going down allowed both Brown and Tatum to play valuable minutes throughout the year and they even gained more playoff experience than most other NBA players have in their career. This young one-two punch the Celtics have going for them is going to run the league sooner rather than later, and as Celtics fans, all we have to do is sit back and watch. Crazy to think that people called Ainge crazy when he traded the first pick for Tatum or when he drafted Brown over Dragon Bender. Almost like he knows exactly what he is doing.
5. Terry Rozier Contending for the Sixth Man of the Year Award
Over the past few seasons, this award has been a two-man race of Eric Gordon vs Lou Williams and before that Jamaal Crawford was a lock to win it every single year. This year, Terry Rozier enters the mix and honestly I would not be surprised if he is leading the charge. Look, he most likely will not put up the numbers he was putting up in the playoffs, simply because of the wild amount of talent the Celtics have. There are too many weapons on offense and too little minutes in a game for Rozier to put up crazy numbers. However, having a point guard come off the bench that is very capable to be a starter on most other teams should not be overlooked. Terry will be a huge piece to the Celtics' success and will absolutely be in contention for the Sixth Man of the Year.
6. Al Horford Doing Al Horford Things
Al Horford is one of the most underrated players in the entire league. The guy does everything from scoring, rebounding, passing, playing defense, the list can go on and on. Entering his 12th season, Al is obviously the veteran on this team. I can't wait to see how he helps this team's young core this year.
7. How will Brad Stevens Use His Players?
The Celtics have one of the best problems a team could ever have. They have too many good players, so how is Brad Stevens going to use them? The starting lineup seems to be set in stone, so the question is how will the bench be used? People forget just how good Daniel Theis was for this team before going down with a season-ending injury, so I hope to see him get some minutes again. The backcourt of Smart and Rozier will get their usual minutes with Morris and Baynes following them. That leaves the group of Ojeleye, Williams, Yabu, and Wannamaker. Expect Ojeleye to see the most time out of these four simply because the dude can lock up anyone on defense. This team can easily play its 14th man on a nightly basis which is just something you don't see in the NBA.
8. The Starting 5
Look at them. Name a better starting 5 in the NBA, you can't (okay yes you can, obviously it is the Warriors). The Celtics typically get off to very slow starts every game, but maybe it will be different this year with this starting 5. We could very well see all five of these guys in the All-Star game this year. Pretty scary.
9. Boston vs Philly "Rivalry"
Tough to call this a rivalry considering Philly only beat Boston one time out of the four times they played in the regular season and the fact that Boston almost swept them without Irving and Hayward in the playoffs. The NBA is kind of force-feeding this whole "rivalry" thing, so sure let's go with it. The first game of this rivalry starts tonight, and it would be a real shame if Philly is once again reminded that they are just simply not as good as the Celtics.
10. The Playoffs
Obviously, we are going to have to wait a long time for this one, but how can you not be excited about the playoffs? The last time we saw the Celtics play, they were so close to going back to the NBA Finals. Having to restart the year is exciting but leaves me impatient. We were so close last year and very well could get back to the Finals this year, but will have to wait.
---
There you have it. We have waited long enough for this night to come and here it is. Celtics fans everywhere are finally happy again. Let's see how this team does this year and honestly get ready for a potential 18th banner!
Click here to follow me on Twitter @ty_miller35
Photo: CBS Boston