There is not one thing I can complain about from the ass whooping that was the AFC Championship. Brady aired the ball out for almost 400 yards and 3 touchdowns, Hogan had a historic night receiving with 9 catches for 180 yards and two TDs, and Patricia's defense only let up 17 points and came up with two turnovers. To the Steelers expense, the Patriots showed everyone why they are the best in the league and the best franchise in NFL history. Like I said, only good things came out the Patriots winning the AFC Championship. However, the highlight of the night was during the post-game celebrations, specifically Martellus Bennett.
After the game, Patriots fans rejoiced while seeing Brady swear on live television, Robert Kraft being belligerently drunk during an interview, and best of all: Martellus Bennett dancing the night away. After New England's blowout win, Martellus decided to celebrate with the Patriot's cheerleaders. The video below shows Bennett and the New England cheerleaders dancing to Whitney Houston's (Houston, ironic right?) "I wanna Dance with Somebody."
It has now been about 24 hours since I saw this happen live. In the past 24 hours, I have watched this scene from every camera and every angle. I've had to watch it at least 50 times today and each and every time, the video gets better. Every subsequent time I watch Martellus breaking it down with the Pats cheerleaders, my smile gets wider and larger. THIS VIDEO GIVES ME LIFE AND JOY. Every New England fan should feel the same exact way about this.
As many of you know, the Patriots acquired Martellus Bennett in the previous offseason from the Chicago Bears, a proverbial wasteland of football talent in recent years. Clearly, I am not the only one to think that either. After being traded to New England, Bennet had some choice words about his former team, calling them a "bunch of bitches" after going 19-29 in his tenure there. Since coming to New England, Marty has lived lavishly in the Patriots lifestyle of winning.
After watching Bennett celebrate with the cheerleading staff, it is clear to me that his goal is to flat-out win. The look on his face while dancing is filled with the truest form of pure joy; the kind of joy that can only come from a baby's laugh or the Patriots winning. I may be somewhat biased in saying that though, but fuck it, it's the Pats vs. everyone. Bennett, although only in his first season as a Patriot, understands that concept too. Today, he took to the media and spoke on behalf of all Patriot's fans: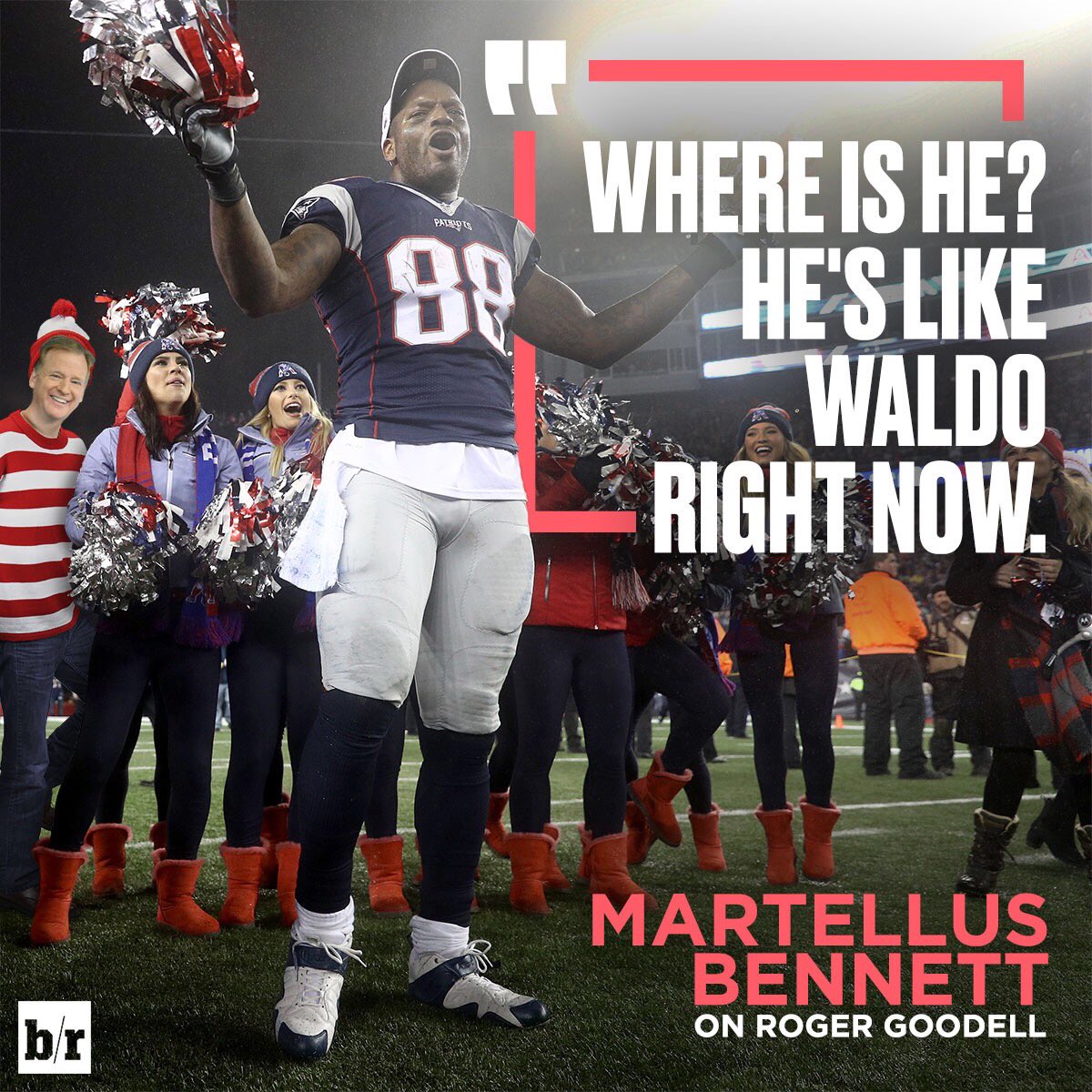 I speak on behalf of all Patriots fans in saying: I LOVE MARTELLUS BENNETT. Now, all I can say is that we have ONE MORE game, ONE MORE win, ONE MORE ring for Brady, Belichick, and the Pats organization, and hopefully ONE MORE time to see Marty celebrate this season! #FuckGoodell #PatsOrDie
Video Credit: @NFL twitter
Photo Credits: @bleacherreport twitter and @martellusb instagram