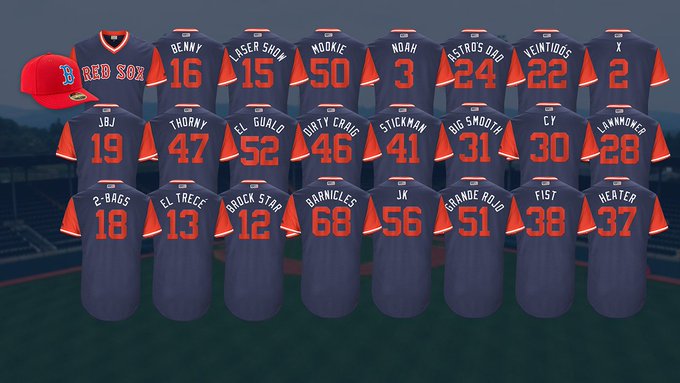 To nobody's surprise, David Price uses his next opportunity to piss off Boston fans
Following with the trend set by the NBA, baseball is using a gimmick to raise attendance in the last weekend of the regular season: a "casual Friday" for players. They can wear whatever cleats and socks they want, with whatever trinkets, emojis and charms the players want to put on.
Most importantly, players can have their jerseys say whatever they want on the back in place of their last name. For most players, it's their nicknames; for Mookie Betts, "Mookie", and Xander Bogaerts, "X".
Most players got creative, with Robbie Ross calling himself the "Lawnmover" and Mitch Moreland calling himself "[Mitchy] 2-Bags".
Instead of using the opportunity to have fun with their one-time promotional event, certain players used it as yet another chance to alienate their media and fanbase.
Unsurprisingly, number 24 on the Red Sox is one of those. He opted for the name "Astro's Dad", knowing fully how ridiculous it is to be "Astro's Dad", instead of "Xavier's Dad", the name of his two-month old son.
But now Price has the media right where he wants them, since this will of course make the Boston media argue and rant about positively nothing, and he can use that as ammo in his team-endorsed crusade against balding guys with cell phones and guys with glasses.
Good luck to him, because General David is still in his tent while the rest of his army is fighting to the tune of seven straight wins.
Price is not alone in holding back the chance to make himself more likeable, as John Farrell stated on WEEI Wednesday morning that he would not participate in the custom jersey festivities.
John Farrell also said on WEEI that he had the option for a nickname on jersey during Players Weekend but won't participate.

— Christopher Smith (@SmittyOnMLB) August 9, 2017
Is there anybody in that clubhouse that likes John Farrell? Sure he'd look stupid wearing a nickname but that's all in good fun.
Lighten up, guys.
Is the NFL right? Is Suspension fair?
Is Cutler over Kaepernick really the right move?