Everybody by now has heard that Kyrie Irving is out for the season. Of course, this is terrible because this was the first time in a long time that the Celtics had a legitimate chance of winning the NBA Championship. However, this is the best thing that could happen at this point in the season, and it isn't even debatable.
Writing to Celtics fans is one of the most difficult things to do. Look, I absolutely LOVE the Celtics. I have been to countless games, watched even more at home, and have been following the team as long as I can remember. However, there are so many "green teamers" that refuse to look at the Celtics from a realistic point of view, and they explode whenever anything bad is said about their team. I have had guys come at me on Twitter saying that the Celtics are a better team than the Warriors, which is just an outrageous thing to say. So if you are reading this and refuse to be realistic about this team, then get ready for a wake up call.
SPOILER ALERT! We were not going to win or possibly even make the NBA Finals this season the second Gordon Hayward went down. As soon as Hayward was done, so was this team's hopes. The season quickly turned from one filled with the possibility of winning a championship, to a season of development. Yeah we won what like seventeen games in a row against good teams in the beginning of the year and yeah we have been beating really good teams such as the Warriors, Cavs, and Rockets. Congrats, we picked up some regular season wins, but do we really care about that in Boston? I could be acting way too hard on this team, but what do you expect?
Then, like everyone knows, the injury plague came through and destroyed us. It took Gordon Hawyard, Marcus Smart, Al Horford, Jaylen Brown, Daniel Theis, and now Kyrie. It has even sprinkled across the rest of the locker room causing other players to miss some games here and there. I mean come on, even Gordon Hayward's dog tore his ACL this week and has to get surgery for it! This was just a very unlucky season for a team who's mascot is based strictly on luck. So when I heard that Kyrie was going to be shut down for the rest of the year, I was ecstatic.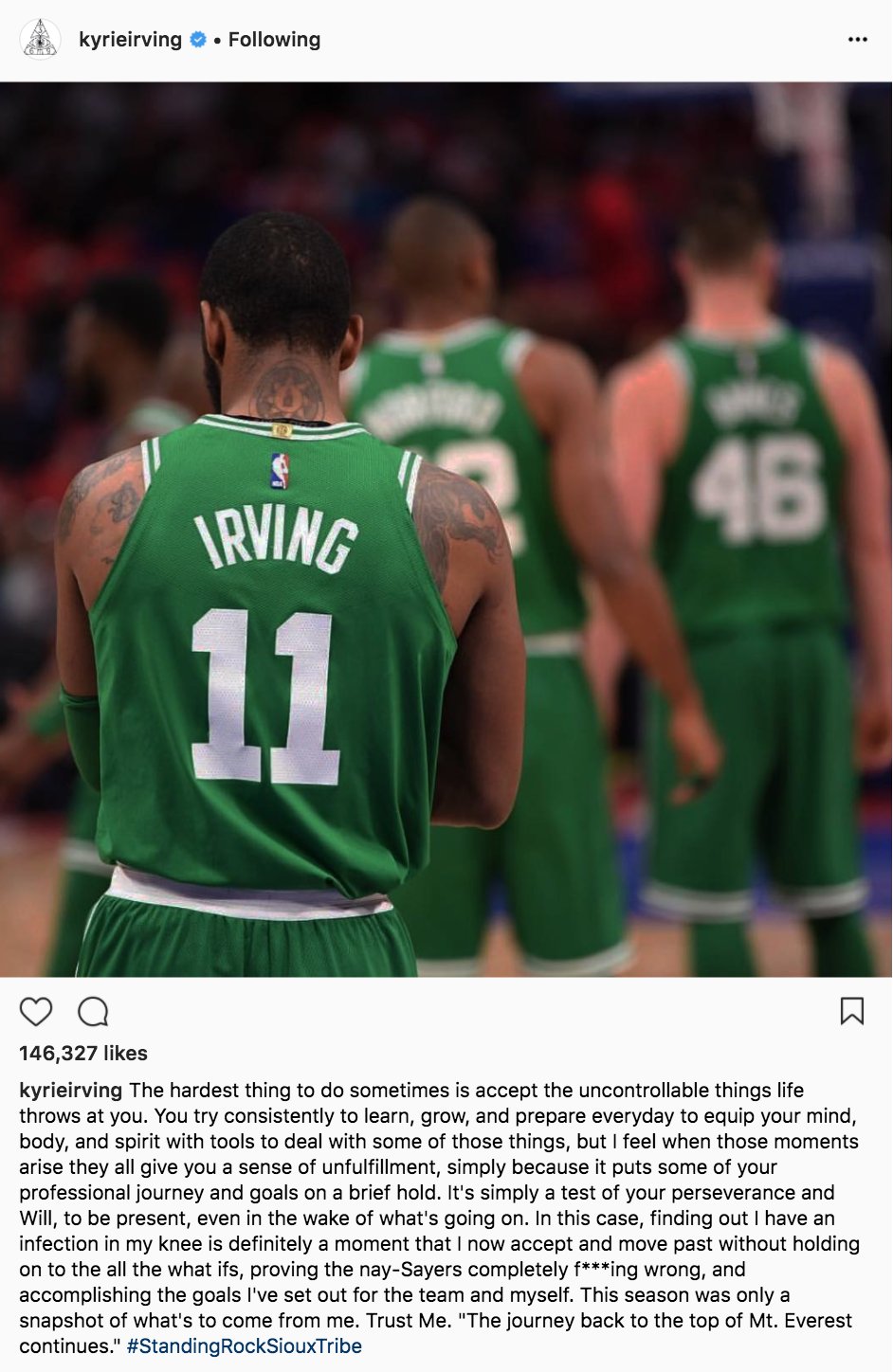 Playoffs are coming up and this battered Celtics team is probably going to secure the two seed. Considering all of the hardships they went through during the regular season, this is probably more success than they should have ever dreamed of. This is all thanks to Brad Stevens. I think either way if we have Irving or not, we will escape the first round whether it ends up being the Heat, Wizards, or Bucks. The second round would be tough even with Kyrie whether it will be the Cavs or the Sixers. I'm not saying this team should quit on the season at all, they should just be very careful on how they proceed.
Say Kyrie ended up coming back but was not at 100%. It would me more than likely we make the Eastern Conference Finals yes, but there would be no guarantee that we would have made it to the finals, and even less of a guarantee that we would have won the finals. We are stilling living in the era of basketball where the Warriors will dominate teams. Simple as that. If we made the finals, they would absolutely kill us. Yeah, we have had the Warriors number in the regular season over the past few seasons, winning just over half the times we played them, but again that is regular season NBA basketball. The Warriors take it up to a completely different level when they need to, while the Celtics are incapable of reaching that second step.
Also with Kyrie out now, this is more time for our young players to develop. I am so excited to see how Tatum, Brown, and Rozier react to this new challenge in front of them. So many minutes just opened up for them, but more importantly so many more offensive opportunities. Instead of looking at these playoffs from the perspective of winning a championship, look at it like as a way for these young guys to elevate their games to another level for next season.
Kyrie resting up for next year truly is the greatest thing that could happen to this team at this point. Keep him healthy and itching to get back to the floor next year. If you haven't already realized this as a Celtics fan, then let me tell you. STAY PATIENT! Danny Ainge is so unbelievably smart and always looks long term. Next year, we got Kyrie and Gordon Hayward coming back. We hopefully have both Rozier and Smart coming back to come off the bench, and of course we have our two young studs Jaylen Brown and Jayson Tatum. Not to mention we have potentially two lottery picks next year because we own the Memphis Grizzlies and Sacramento Kings' picks and folks, they are two of the worst teams in the entire NBA. If we don't use those picks and end up trading them, that is just more assets coming into Boston. So yeah, it stinks that Kyrie is out for year, but honestly this is just a bump in the road on our path to an NBA championship.