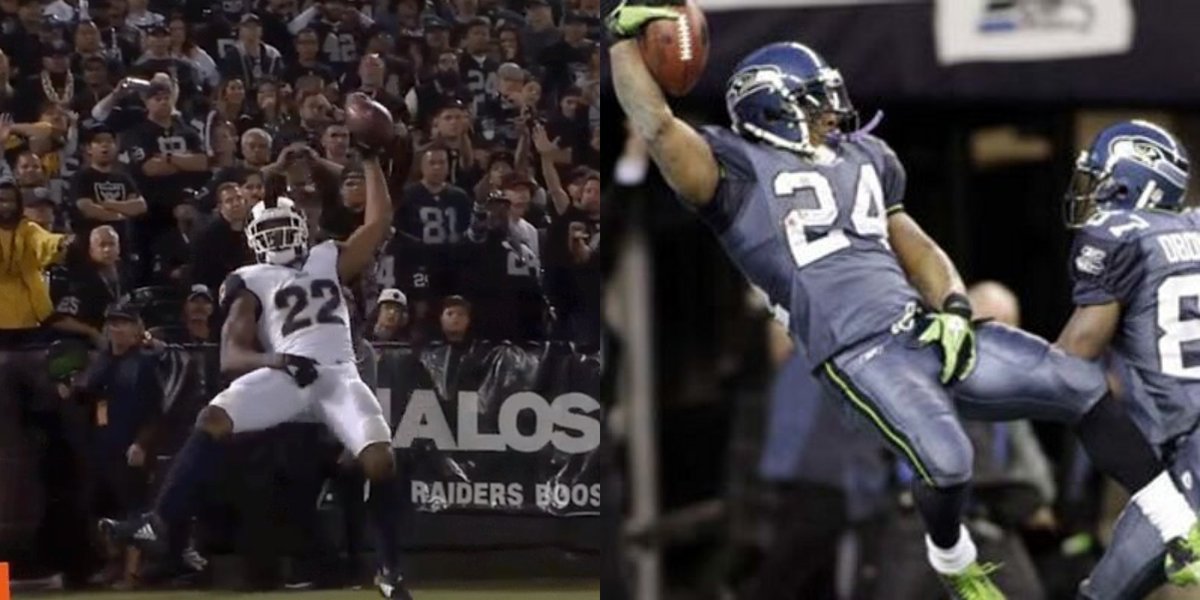 Football is back, and with it comes injuries, contract disputes, more injuries, and baffling roughing the passer penalties aimed at stopping these injuries.
Other than that, all is well.
The Super Bowl Champion Eagles and Atlanta Falcons set the bar this year for failing to live up to the hype, with an unwatchable 18-12 Eagles victory. The hunger for real competitive football was the only thing making this worth anyone's time.
There was new Hall of Famer Brian Dawkins, there were nutjob Philly fans, and there were nutjobs decisions made by Falcons quarterback Matt Ryan.
Falcons need to get their money back from Steve Sarkisian and Matt Ryan. I said they should've drafted a QB this year. Matt Ryan is not worth $150 million. I refuse to believe that. pic.twitter.com/Kg32Mi3Mo2

— JaiHawkFLY (@JaiHawkFly) September 7, 2018
Offensive coordinator Steve Sarkisian is a recovering alcoholic so there's only so much you can say, but he's lucky to have his job.
The less said about Nick Foles and the Eagles, the better, but running back Jay Ajayi carried the Philadelphia offense Thursday night.
The big story before Sunday's games was Le'Veon Bell and his continued contract dispute that has made him the enemy of his Steelers teammates for asking for Timofey Mozgov money
The anti-Bell Steelers fans were happy that Bell's replacement James Conner rushed for 192 yards and two touchdowns, but this came at the cost of tying to the Cleveland Browns, 21-21.
This was the first home opener in fourteen years that the Browns did not lose, which is a big step forward, but Browns fans will be asking for Baker Mayfield at quarterback very soon (if they aren't already). The Browns did not win, but they did not lose.
It's like kissing your sister.
If you read that in a Jon Gruden voice, it may be because of the headlines he's making in his return to coaching. Gruden signs a bunch of old-ass free agents and then chooses not to pay his best player in Khalil Mack.
The Los Angeles Rams signed defensive end Aaron Donald to a megadeal, forcing Gruden and the Raiders to pay up or trade him.
So Khalil Mack is a Chicago Bear now, and he looked excellent for them in the first half. I have to stress first half because it all went south from there for the Bears. Aaron Rodgers returned from a possibly serious knee injury just to nut-punch the Bears for the 100th time.
https://twitter.com/natemar3i0n/status/1039015050655277056?s=19
As for Khalil Mack's ex-team, they looked just as bad as they may have expected. Marshawn Lynch was Marshawn Lynch for the Raiders, but nobody else was who they were set out to be. In specific, Derek Carr, who threw three interceptions to the Los Angeles Rams defense.
New Rams cornerback Marcus Peters returned one of these picks for a touchdown. His celebration was a classic "hold ma dick" that would make cousin Marshawn Lynch proud.
Marcus Peters dick grab flying into the endzone on a Pick Six makes me sad pic.twitter.com/nHMu2Qa0y6

— JKuhn (@h8rproof82) September 11, 2018
There was a Monday night game before the Rams' embarrassment of Oakland, and it was even more of a blowout by…. the Jets?!?!!?!
Were the Jets really that much better than the Detroit Lions? Lions quarterback Matthew Stafford's awful performance would have you believe so.
New Jets quarterback Sam Darnold started his first game as a Jet the only way he could, with a pick six on his first pass attempt. After that, Darnold and the Jets made it out okay even if Darnold continued to throw across his body. It still wasn't as bad as Mark Sanchez.
RE: the Sam Darnold pick six. It could've been worse. @WTPsports pic.twitter.com/fPuCHNP2CE

— Tyler Zupan (@tzupes) September 10, 2018
Bad weather in the Miami area forced Sunday's Titans-Dolphins game to be four hours more than it should have. The Dolphins pulled off the win and nobody looked that great (and nobody really cared if we're being honest).
As for the other team in Florida, the Buccaneers went into New Orleans and smacked the Who Dat defense in the mouth. Tampa's defense was equally bad, but quarterback Ryan Fitzpatrick threw for over 400 yards and four touchdowns. Okay then, Fitzmagic.
Tampa receiver Mike Evans shook defensive rookie of the year corner Marshon Lattimore for a highlight reel touchdown that summarized the game pretty well.
Moving onto what should've been the game of the week, Jaguars-Giants, or Jalen Ramsey vs. Odell Beckham Jr. These teams also have running backs with a unique blend of power, strength, and speed in Leonard Fournette and Saquon Barkley.
Where it gets a lot less interesting is the quarterback duel, Eli Manning and Blake Bortles. They underachieved as much as they could, and the Jaguars came away with a 20-15 win.
Speaking of 2015, two of Sunday's late afternoon games would have meant a lot more then. The Denver Broncos edged off the Seattle Seahawks 27-24 and the Carolina Panthers just barely beat the Dallas Cowboys 16-8. Moving on.
The Redskins blew the doors off of Arizona, who became the next team to try to make Sam Bradford work. To quote the great Mike Ditka, "STOP IT!"
Running back Adrian Peterson had a game and a half for Washington against his former team last season, and quarterback Alex Smith managed the game as only he could.
Smith's replacement in Kansas City, Patrick Mahomes, was quite the opposite in San Diego Los Angeles, carrying the Chiefs' high-octane offense to an easy victory over the Chargers. By the way, Tyreek Hill is really f%&$ing fast.
Tyreek Hill IS a Cheetah. #Chiefs pic.twitter.com/Hn1IB8Djeb

— Jeff Rosen (@jeff_rosen88) September 9, 2018
I almost forgot the Ravens-Bills, a game that should've been mediocre, but was a beatdown instead. The Bills comically started Nathan Peterman at quarterback and finally unleashed Josh Allen after four Peterman interceptions and a 40 point deficit later. Oh, Bills. That team is destined for last place with the way they look.
Lamar Jackson got in the game for Baltimore once Josh Allen stepped in for the Bills, which was a great bit of irony if you remember the coded BS from scouts and anonymous draft experts this spring that made Jackson fall to the end of the first round.
The hyped first 2018 start for Jimmy Garoppolo did not start as planned against Minnesota and its incredible defense, but it got dramatic toward the end.
Kirk Cousins actually looked as good as his contract billing, making outstanding throws and finding open receivers like Adam Thielen and Stefon Diggs. A lot of positives from both teams this game.
However, a lot of not-positives came from the Bengals-Colts. For one, Andrew Luck continues to run a potentially great career into the toilet by suiting up every week for the Colts. He had to drop back to pass 53 times in his first game back from a major shoulder injury, behind a terrible offensive line. Yikes.
Also, the Bengals don't know how to handle the new roughing the passer penalties. Even if they did, they would still do this:
#Bengals S Shawn Williams ejected for this awful hit on Andrew Luck. pic.twitter.com/1el6iWRNNe @shaunwil

— uSTADIUM (@uSTADIUM) September 9, 2018
Finally, the Patriots did just enough to win against another AFC team. Hooray. Texans quarterback DeShaun Watson did not look himself in this game, possibly due to increased pressure from New England's defense. Side note: the Texans offensive line is horrid.
Where former Patriots defensive coordinator Matt Patricia preferred a three-man rush with players dropping back into coverage, the 2018 Brian Flores-Bill Belichick defense looks like it prefers sending more rushers. This could be just one game, or a response to Watson being a threat to run.
In any case, the Patriots defense looks better than it did in the opener last season. Houston made it a close game after a three-score deficit became one, but they were unable to complete the comeback. DeAndre Hopkins was once again a threat on offense, but no other Houston receiver earned extra attention from the Patriots defense.
Le'Veon Bell and Dez Bryant are still holding out, among other big names in football. Since it's still early in the season, it'll be a few weeks before most teams reach their proper form.
September is the new preseason, and everyone's still figuring out their gameplans. We can't tell who will be in the playoff hunt, but we may be able to tell who won't. Like the Raiders and Bills. Stay tuned for next week.
---
Image: Bleacher Report