After what started as an MCL sprain cooper Kupp returned for actions for only 2 games before tearing his ACL against the Seahawk's this past Sunday. This is a tough loss for the Rams. I have to say, Kupp has been so efficient since coming into the league last year, posting almost a thousand yards in his rookie season while still not being totally featured. Last year Kupp made sure people knew his name after putting up 869 yards on 63 catches and 5 touchdowns.
It's really tough to see injuries like this happen, especially to guys who are looking to make that leap and solidify themselves as a top player in the NFL. This year Kupp looked like he was really coming into himself, he had already topped his career best in touchdowns (6), catch percentage (71.4%), yards/gm (70.8), rec/gm (5), and his longest catch (70 yds). The one thing that does standout to me the most regarding his rookie season is that he only started 5 games but still seemed to be a solid option in the pass game. After gaining the full trust of McVay, Kupp looked like he was in line as the number 2 receiver since Sammy Watkins was bound to move on. Instead Kupp ended up taking a backseat to Brandin cooks as the number 3 but has still been Goff's most efficient receiver. Not only did Kupp overcome most of those career highs but Goff has a 134.4 passer rating when targeting Copper Kupp this year, which just so happens to be the highest passer rating when targeted in the NFL. Kupp looked to beat his career best in receptions and yards too, he had 42 catches for 566 yards this season and from the way he was playing I would've seen him going over 1000 with double-digit scores.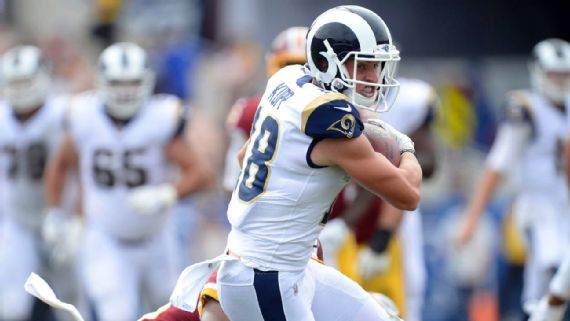 Kupp is one of the cornerstones to this offense and its no surprise the passing game takes a hit but seriously, if I'm the rams then this really isn't the end of the world. If you haven't noticed there's plenty of corners in this offense to lean on and with the injury to kupp look for an uptick in targets for Josh Reynolds, Tyler Higbee, and maybe a little bit of Gerald Everett. Not so much Everett but I think Reynolds and Higbee could be seeing almost a split in Kupps target share, which would ultimately not only let Reynolds be involved enough where he can learn without a big role but this is the Rams chance to create a bigger role for Higbee as a tight end since he only has 12 catches on the season. Look for Everett to be more of a red zone option and Higbee to handle the bigger load. If your someone who plays fantasy then these two guys are also most likely on the waiver wire and bound to see more volume. If the Rams do decide to make a bigger role for Higbee he can become a problem, but do not shy away from Reynolds, he may just be the 4th option in the passing game after Kupp went down but this kid can play and I think the rams are going to wanna get him involved early to give him a nice confidence boost.
Photo: Associated Press /Fulton Sun.